Today.Az

»

Politics » Bush, Ahmadinejad clash over nuclear rights


20 September 2006 [09:45]

- Today.Az
President Bush and Iranian President Mahmoud Ahmadinejad clashed over Iran's nuclear ambitions in addresses to the United Nations on Tuesday, but Washington agreed to allow more time for talks with Tehran.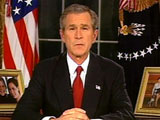 Bush accused Iran's rulers of squandering their nation's wealth to fund terrorists and nuclear arms research. With international support uncertain, however, he said he was willing to pursue diplomacy further before resorting to sanctions.
"Iran must abandon its nuclear weapons ambitions," the U.S. leader declared in a speech to the U.N. General Assembly.
Foreign ministers of the major powers -- the United States, Russia, China, Britain, France and Germany -- agreed to give European Union foreign policy chief Javier Solana more time to explore a possible deal with Iranian negotiator Ali Larijani.
But the ministers reaffirmed their support for sanctions if Tehran did not suspend its most sensitive nuclear work, Nicholas Burns, the U.S. undersecretary of state, told reporters.
Bush defended his muscular promotion of democracy in the Middle East and assailed the leaders of Iran and Syria while appealing to their peoples over their heads.
"Your rulers have chosen to deny you liberty and to use your nation's resources to fund terrorism and fuel extremism and pursue nuclear weapons," Bush told Iranians.
Iranian President Mahmoud Ahmadinejad hit back hours later from the same rostrum, accusing Washington and its allies of abusing the 15-nation U.N. Security Council to deny Iran the right to peaceful nuclear power that Western states enjoyed.
He insisted Iran's nuclear program was "transparent, peaceful and under the watchful eyes of IAEA inspectors," a reference to the U.N. nuclear watchdog, but did not slam the door on U.N. demands to suspend uranium enrichment.
In a week of Muslim protests over Pope Benedict's criticism of their faith, Bush insisted the West was not hostile to Islam, contrary to "propaganda and conspiracy theories."
Ahmadinejad was not in the chamber at the time, but when his turn came, he delivered an uncompromising tirade against U.S. global dominance, singling out the "illegal" invasion of Iraq and "blanket and unwarranted support" for Israel.
Solana has said he is making "real progress" in talks with Tehran and will meet Larijani again in New York this week.
Bush said Syria's leaders had made their country "a crossroads for terrorism" and told Syrians: "In your midst, Hamas and Hizbollah are working to destabilize the region, and your government is turning your country into a tool of Iran."
The U.S. president vigorously rebutted critics, including many opposition Democrats at home, who argue his drive for democracy has destabilized the Middle East, from Iraq to the Palestinian territories, empowered Islamists and spread chaos.
"This argument rests on a false assumption: that the Middle East was stable to begin with," Bush argued.
Yet he faced growing skepticism over his policies on Iran and Iraq, with U.N. Secretary-General Kofi Annan warning on Monday that Iraq is in grave danger of civil war while France, Russia and China argue against a rush to sanctions on Iran.
French President Jacques Chirac said he opposed setting any deadline for sanctions since dialogue should have priority.
After meeting Bush, he said they fully agreed on a sequence for launching negotiations with Iran, under which major powers would pledge not to seek sanctions for the duration of talks and Iran would suspend enrichment while negotiations lasted.
Bush and Ahmadinejad slept at adjacent hotels and addressed the annual Assembly session within hours of each other, but their paths did not cross.
The Iranian president, a strict Muslim, declined to attend a lunch for world leaders, including Bush, hosted by U.N. Secretary-General Kofi Annan, ostensibly because wine was on the menu. Other Muslim leaders attended.
Ahmadinejad told NBC television: "I am against the policies chosen by the U.S. government to run the world. Because these policies are moving the world toward war."
Annan used his final address to the General Assembly before leaving office after 10 years in December to plead for Security Council action to end the Arab-Israeli conflict. He said efforts to solve all other Middle East crises would face resistance while the Palestinian question remained unresolved.
A tearful Annan won a prolonged standing ovation from the 192-member General Assembly after declaring: "Together we have pushed some big rocks to the top of the mountain, even if others have slipped from our grasp and rolled back."
/Reuters/