Today.Az

»

Politics » Why is Armenia expanding the EU mission - former adviser to German government


09 June 2023 [10:53]

- Today.Az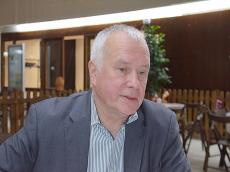 By Abdul Kerimkhanov, Day.az Editor-in.Chief
On June 8, it became known that the EU civilian mission in Armenia (EUMA) plans to establish three additional operations centers in Gafan, Ijevan and Yeghegnadzor in the coming months, gradually reaching full readiness in the near future. This was stated by Head of Mission Markus Ritter while receiving a delegation of the Council of the European Union (EU) Working Group on Eastern Europe and Central Asia (COEST) together with EU Ambassador Andrea Wiktorin.
He noted that in the first quarter of its activity, the mission carried out over 300 patrols from its centers in Gerus, Jermuk and Martuni. Patrols cover more than 3800 km every week.
On the same day, Michael Rott, chairman of the Foreign Relations Commission of the German Bundestag, expressed hope that Azerbaijan would also agree to the activities of the EU civil mission from the Azerbaijani side. However, according to him, there were no optimistic signals in this regard. Rott said this in an interview with journalists in Yerevan.
"We are grateful to the Armenian government for inviting the EU civil mission to conduct monitoring in Armenia. We are pleased to announce that the EU mission will expand its activities in the near future. And we hope that the Azerbaijani side will also agree to the activities of a similar mission from the Azerbaijani side," he said.
A German journalist, political scientist, historian, former adviser to the German government Alexander Rahr in a comment on the activation of the EU mission in Armenia and its attempts to infiltrate Azerbaijan, said that Armenia is ready to come under the protective wing of the European Union.
"Apparently, Yerevan believes that the European Union today and in this situation will be better able to protect the country from the pressure of Azerbaijan and Turkiye than Russia, the traditional protector of Armenians," the German journalist emphasized.
Our interlocutor also noted the lack of funding for the Armenian economy:
"The Armenian economy desperately needs investments and capital. And, alas, Russia is under sanctions. The European mission, which contributes to the settlement of the military conflict, for Pashinyan today seems to be an important prospect for stability in the region."
As for Azerbaijan, it does not want to return to the old days, when the European Union lectured it on every corner on issues of values and democracy. Baku does not want to experience any more such "colonialism" from the West. Baku also does not need the protection of the European Union, it has its own good relations with Russia and Turkey," Alexander Rahr concluded.