Today.Az

»

Politics » Eldar Namazov: "Baku expects no break of Aliyev-Kocharian meeting"


08 February 2006 [11:45]

- Today.Az
Co-founder of New Politics Azeri bloc, political scientist Eldar Namazov said there are no grounds for promising statements in settlement of the Nagorno Karabakh conflict.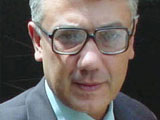 In his words, today participants of the talks have diametrically opposite stands. "This is clear if you pay attention to latest statements of official Yerevan and Baku. Thus I do not expect anything from the coming meeting of the two presidents or a break in the talks. I believe the necessary conditions have not matured for a break: international and domestic situation. Unless these two conditions are present the Karabakh conflict will be a small change in political games," he remarked.
As of the opinion of the OSCE Minsk Group co-chairs that 2006 can be a window on the way to solve the Karabakh conflict, Namazov believes, the co-chairs "base themselves on purely theoretical considerations".
"Electoral processes hamper conflict settlement as a rule and result in freezing of talks. To the contrary, post-election situation in our country is accompanied by deepening split between the authorities and the society. Thus the idea of the co-chairs is merely theoretical and is not applicable to our region. The parties understand that no break will take place in Paris. To all appearance ground is being prepared for a time-out. The past year was full of promising statements in spite of suspicion that it was all aimed at increase of international community's attention to ruling elites," Eldar Namazov said, reported Echo Baku newspaper.
/PanARMENIAN.Net/