Today.Az

»

Politics » Russia's top diplomats express country's readiness to mediate Azerbaijani-Armenian ties


29 December 2022 [17:58]

- Today.Az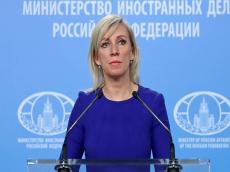 By Azernews
By Sabina Mammadli
Armenian Prime Minister Nikol Pashinyan doesn't understand the realities on the ground, Russian Foreign Ministry Spokesperson Maria Zakharova said.
She made the remarks during a weekly press conference, commenting on Pashinyan's criticism of the Russian peacekeeping contingent temporarily deployed in Azerbaijan's Karabakh region.
"Criticism of the activities of the Russian peacekeeping contingent is unacceptable. The Russian peacekeepers do their best to settle the situation in the region. The public attacks do not help. There were cases worse than this. We are working on improving this situation. There can be endless talks on improving efficiency and so on. Right now, everyone is solving the situation. But saying and declaring such things means simply not understanding the realities in the region," the official noted.
Further, she pointed out that Russia in its mediation mission takes into account allied relations with Azerbaijan and Armenia.
"Moscow relies on the whole range of top-level trilateral statements, which are the basis for the normalization of relations between Yerevan and Baku," Zakharova added.
Similarly, Russian Foreign Minister Sergey Lavrov stated that the country provides all possible assistance to the peace process between Azerbaijan and Armenia.
Noting that Russia's assistance is "in the form and volumes in which our Azerbaijani and Armenian friends are interested", he added that Baku and Yerevan should be the ones addressing the question of the peace treaty.
"It is they who set the dynamics of contacts and determine the content of the future peace treaty," Lavrov said.
Besides, Russian Presidential spokesman Dmitry Peskov expressed Russia's intention to continue mediation efforts between Armenia and Azerbaijan based on trilateral agreements.
"Russia continues and intends to continue its mediation efforts, primarily fulfilling the agreements that were reached on a trilateral basis," the spokesman said.
Note, the Armenian premier, referring to the unsatisfactory performance of Russian peacekeepers, proposed to involve other international structures in the settlement of the problem such as UN peacekeepers to Karabakh.