Today.Az

»

Politics » Syria accuses Israel of assassinating Arafat


21 January 2006 [20:17]

- Today.Az
Syrian President Bashar al-Assad accused Israel on Saturday of assassinating former Palestinian leader Yasser Arafat, the cause of whose death 14 months ago remains a mystery.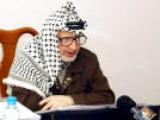 "Of the many assassinations that Israel carried out in a methodical and organized way, the most dangerous thing that Israel did was the assassination of President Yasser Arafat," Assad told a gathering of Arab lawyers, informs Reuters from Damascus.
"This was under the world's gaze and its silence, and not one state dared to issue a statement or stance toward this, as though nothing happened."
Arafat died in Paris on November 11, 2004 at the age of 75 after being rushed from his West Bank compound to a French military hospital.
Israel has denied being responsible for the deterioration in Arafat's health before his death and has denied poisoning him.
Israeli officials said he had access to medical treatment, food, water and medication during the two years he spent in his battered compound in Ramallah, which was besieged by Israeli troops for months in 2002.
French doctors denied rumors that Arafat was poisoned but have refused to publish his medical reports, citing strict privacy laws.
Arafat aides had quoted doctors as saying he had a low count of platelets, which help the blood to clot. They later said he had gone into a coma, suffered a brain hemorrhage and lost the use of his vital organs one by one. But no definitive cause of death was announced.