Today.Az

»

Politics » Mechanic constriction of Azeri section of SCP to complete by late 2005


16 July 2005 [09:45]

- Today.Az
Mechanic construction of the Azerbaijani section of the South Caucasus Pipeline (SCP) will be complete by the end of 2005, Trend reports quoting Karl Slatter, manager of the project, as saying.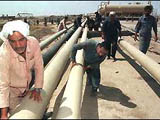 According to Slatter, the construction of the Georgian section will be complete by the end of 2005 or beginning of 2006. "As of 10 July the construction of the gas-pipeline was complete 66%, in Georgia - 51%. The construction work in Georgia is more difficult than in Azerbaijan due to hard relief of the country," Slatter said.

The project manager said that 386 km-pipe of 443 km pipe was lowered to trenches with 321km pipe welded and 302km trenches filled up. Meanwhile, 215km of 245km Georgian section was put in trenches, with 191km welded and 116km filled up.

The construction of a branch of the gas pipeline running to the Turkish border is complete 68%, while to Georgian border - 53%.