Today.Az

»

Arts & Entertainment » James McAvoy may portray the creator of James Bond


30 December 2009 [11:00]

- Today.Az
If the producers behind a new planned biopic of Ian Fleming have their way, James McAvoy will be playing the man who created James Bond. His name? Fleming. Ian Fleming.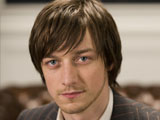 Palmstar Entertainment and Animus Films have been busy developing the project, according to Pajiba's sources, based on Andrew Lycett's book Ian Fleming: The Man Behind James Bond.

McAvoy is attached, and it's certainly a solid role to tackle - Fleming lived largely in the shadow of his politician father and more notable siblings, living the life of a wayward playboy before World War Two changed his life and gave him the inspiration for Britain's best secret Agent - and the film itself could likely slot into his schedule between the likes of I'm With Cancer and the still nebulous sequel to Wanted.

/Empire Online/