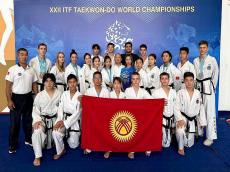 The Kyrgyz ITF taekwon-do team won seven medals at the World Championship, the press service of the Department of Physical Culture and Sports of the Kyrgyz Republic said, Azernews reports, citing Kabar.
The world championship was held in Astana. Athletes from 68 countries took part in it. Kyrgyzstan was represented by 22 athletes. The national team has one silver and six bronze medals.
Ramiz Daistrokov took second place in sparring among juniors in the category up to 65 kilograms.
Ainazik Abdujabbirova (up to 40 kg), Gulzara Mikhmanova (up to 62 kg), Eliza Sharshekeyeva (up to 64 kg) and Muslim Tolkumbaev (up to 69 kg) took the third places.
Vladislav Petrenko became a bronze medalist in sparring among juniors up to 63 kilograms and took third place in personal special equipment among juniors 16-17 years old.