State Customs Committee (SCC) currently considers World Trade Organization (WTO) customs tariffs for Azerbaijan. Aydin Aliyev, Chief of the Committee, told in his speech to the media that WTO wants Azerbaijan to consider proposals on customs tariffs.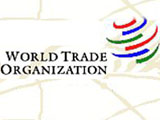 "This is an important process and the issue will be considered in parts. We will defend national interests under all circumstances."
As APA informs, Aliyev also told about their activity regarding the implementation of President's decree on employing attaches on customs issues for Azerbaijani diplomatic corpse abroad. On his words, besides the decree, some changes need to be made to several legislative acts to enact attache appointment.
"Power and duties of attaches on customs issues should be defined in the legislation. Relevant structures are now considering these opportunities," Mr. Aliyev added.