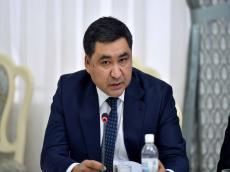 Kyrgyzstan and Azerbaijan negotiated to set up a joint development fund, Azernews reports, citing Economy Minister Daniyar Amangeldiyev.
He was speaking at a meeting of the Committee on International Affairs, Defense, Security, and Migration.
He also noted that negotiations are also underway with Turkiye to create a joint development fund.
Diplomatic relations between Azerbaijan and Kyrgyzstan were established on January 19, 1993. Over 20,000 Azerbaijanis live in Kyrgyzstan and actively participate as entrepreneurs and in the public life of the country. In total, around 58 documents were signed between the two countries. The trade turnover between the two countries amounted to $10.8m in 2022.