The International Bank of Azerbaijan plans to switch to a new and more modern automated banking system starting January 1 of the next year.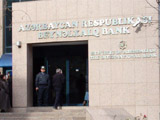 The press service of the bank explained that the transfer to another system is an upgrade since the MIDAS system used by the bank since 1995 does not meet the demands of the bank anymore.
New software will allow serving approximately 10 million accounts, numerous branches and departments.
APA