The workers of the "Bos Shelf" company will go on strike by December 12 again. The reason of it is not fulfillment of the commitments undertaken by the administration of the company.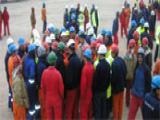 The coordinator of the Workers' Strike Committee Allahyar Eyyubov told APA that the administration of the company declared yesterday that they are not able to redeem the promises given to the workers a week ago.
The administration of "Bos-Shelf" told the workers that the International Operation Company (AIOC) and State Oil Company of the Azerbaijan Republic (SOCAR) can implement the demands of the workers. That is why this problem should be discussed in the mentioned structures: "They note the importance of solving the problem in this form. We know that our problem has not been solved. That is why an hour warning strike will be held at 7:40 a.m. on December 12 and the administration of the company will be given 3 days to think it over. If our demands are not fulfilled during this period, all workers employed in "Bos Shelf" will go on continuous strike".
The chair of the Committee for Protection of Rights of Oilmen Mirvari Gahramanli told APA that she is following the events and is currently investigating the situation. According to her it is necessary to wait till the end of December in order to see how many promises given to the workers both "McDermott" and "Bos Shelf" will be redeemed. The promises given by the company to stop a strike of its workers were: 20% salary raise, pay bonuses, solve medical insurance issues and extend time of paid vacations.
The chief of the press-service of the "BP-Azerbaijan" company Tamam Bayatli told APA that the issue is discussed between SOCAR, "Bos Shelf" and "BP" at present.
APA