50% of incomes of the state budget of Azerbaijan fall at private sector.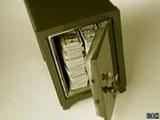 The agency Trend reports, the head of secretariat of Board of entrepreneurship at the president of Azerbaijan  Alihuseyn Shaliyev informed at the press conference 27 May.
He said, 73,5% of GDP of Azerbaijan in 2004 was on private sector. At that presently, 66 thousand person deal with entrepreneurship activity and 192 thousand are natural persons. "50% of legal persons are registered in regions, 50% - in Baku, as for natural persons, then bigger its part is concentrated in regions," A. Shaliyev noted.
A.Shaliyev said, presently the main priority of entrepreneurship in the state is strengthening of export potential. He underlined, development of entrepreneurship in the state may be divided conventionally into three periods 1993-1996, 1996-2002 and from 2002 up to present time. "It was difficult to speak about success of development of entrepreneurship till 1993. That time economy state was transferring to market system and different measures on development of entrepreneurship were undertaken episodically, without system character", A.Shaliyev noted.
He said form 1993 to 1996 rates of growth of inflation decreased, fundamental reforms, aimed for development of entrepreneurship began accomplished. Since 1996 stable growth of GDP started by 0 1,3%, 1997 - more than 5%).
"After meeting with foreign and local entrepreneurs n the state in 2002, measures on simplification of system of licensing and tax fees were undertaken. Presently, improvement of state and budget possibilities served as catalyst of development of entrepreneurship, leasing started to get developed in the state and, particularly, state SS "Agrolizing" was established", A.Shaliyev mentioned. Comparing with 2001 and 2002 number of tax and other inspections decreased in 2004 by 2,3-2,5 times. Last year, budget incomes were 7,548 bln manats.