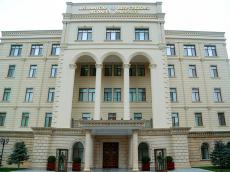 By  Trend
There is no connection or any other contact between the Ministry of Defense of Azerbaijan and the Ministry of Defense of Armenia, the Ministry of Defense of Azerbaijan stated Nov. 6 in response to an inquiry from Trend.
"According to the agreement reached in Dushanbe, a responsible person has been identified who maintains mutual contacts with Armenia in connection with the situation on the front line, however, this responsible person is not an employee of the Azerbaijani Ministry of Defense," the Ministry stated.
Today, the Armenian Minister of Defense David Tonoyan has made a statement in which he said that a direct telephone communication has been established between the ministers of defense of Armenia and Azerbaijan.