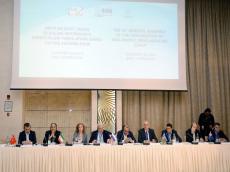 By  Azertac 
Co-organized by the Heydar Aliyev Foundation and AZERTAC, plenary sessions of the 16th General Assembly of the Organization of Asia-Pacific News Agencies (OANA) have been held in Baku.
The General Assembly was preceded by the 40th meeting of the OANA Executive Board.
Addressing the event, OANA president, Director General of TASS news agency Sergey Mikhaylov on behalf of the participants thanked President Ilham Aliyev, president of the Heydar Aliyev Foundation Mehriban Aliyeva and AZERTAC Director General Aslan Aslanov for the excellent organization of the events which Baku hosted during three days.
Sergey Mikhaylov highlighted the history of the establishment of OANA which includes 44 news agencies from 35 countries.
The participants then approved the agenda of the 16th General Assembly and heard a financial report of the organization.
The 16th General Assembly then continued with plenary sessions.
The event moderator, OANA Secretary General, First Deputy Director General of Russia's Tass news agency Mikhail Gusman noted that more than 80 heads and representataives of 40 news agencies attended the meeting of the supreme body of the organization.
The OANA 16th Assembly's agenda then was put to a vote and approved.
Addressing the event, OANA president, Director General of TASS news agency Sergey Mikhaylov hailed the development of information technologies in recent years. He also pointed to the establishment of the committee of ethics of OANA, saying this was important amid growing cases of journalists facing violence in some countries.
Hailing OANA's active cooperation with a number of regional and international organizations, Sergey Mikhaylov noted that a special award was instituted to recognize the efforts of those who contribute to the development of journalism.
The event then featured a ceremony to award winners of "OANA Excellence Award"-employee of Korean Yonhap agency Tae Sung Chung and a representative of Russia's TASS agency Andrey Lebedev.
The events heard and approved reports of financial, technical and ethics committees of OANA.
AZERTAC' s Director General Aslan Aslanov was elected as a new president of OANA.
Heads of Russia's TASS, China's Xinhua, Korea's Yonhap and Turkey's Anadolu agencies were elected as OANA vice-presidents.
Heads of Iran's IRNA, Bahrain's BNA, Vietnam's VNA, Lebanon's NNA, Australia's AAP, Japan's Kyodo, India's PTI, Malaysia's Bernama agencies were elected as members of OANA Executive Board.
Speaking at the event, newly elected OANA president Aslan Aslanov thanked for support and confidence put in him and the agency. He hailed fruitful discussions featured at five sessions of the News Agencies World Congress which ended in Baku yesterday.
The General Assembly featured the 41st Executive Board meeting following the new president's speech.
AZERTAC Special Correspondent in Germany Vugar Seyidov was elected as OANA Secretary General.
Azerbaijan's AZERTAC, Russia's TASS, Iran's Mehr, Mongolia's Montsame, Indonesia's Antara, Kazakhstan's Kazinform, Kuwaiti KUNA were elected as members of the organization's technical committee.
As a result of voting AZERTAC, Vietnamese WAM, Japan's Kyodo, Australian AAP agencies were elected as OANA ethics committee members.
Yonhap agency of the Republic of Korea put forward its bid to host the 17th OANA General Assembly, which was approved by voting. Yonhap agency will chair OANA in 2019-2022.
Bahrain was elected as host of the 42nd Executive Board meeting that will take place in March, 2017.
In his remarks, president of Yonhap agency Park No-Hwang hailed TASS's successful presidency of the organization. He expressed his confidence that AZERTAC will excellently chair the organization in 2016-2019.
In his closing remarks, Mikhail Gusman, on behalf of the participants, expressed his gratitude to President Ilham Aliyev and the Heydar Aliyev Foundation for excellent organization of both the 5th News Agencies Word Congress and the 16th General Assembly of OANA. He wished AZERTAC success in its activities both in News Agencies World Congress and OANA presidency.