Today.Az

»

Sports » Baku marks International Day of Football and Friendship


17 May 2017 [13:14]

- Today.Az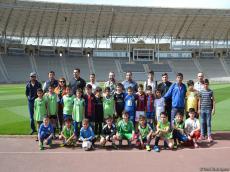 By Azernews
By Laman Ismayilova
The International Day of Football and Friendship was marked in Baku.
The Day is celebrated as part of the Football for Friendship (F4F) international children's social project, implemented by Gazprom within the Gazprom for Children program. The project is aimed at developing youth football and fostering tolerance and respect toward different cultures and ethnicities among children from across the world. The key values supported and promoted by the project's participants include friendship, equality, fairness, health, peace, devotion, victory, traditions, and honor.
The F4F project has a special prize: the Nine Values Cup is a unique trophy awarded annually to a professional football club for the implementation of social initiatives based on the project's values. The winner is chosen by young F4F ambassadors through a vote held in all countries participating in the project.
In 2017, the project's participating countries are as follows: Algeria, Argentina, Azerbaijan, Austria, Armenia, Bangladesh, Belarus, Belgium, Bolivia, Brazil, Bulgaria, China, Croatia, the Czech Republic, Denmark, Egypt, Estonia, Finland, France, Germany, Ghana, Greece, Hungary, Iceland, India, Iran, Iraq, Italy, Japan, Kazakhstan, Kyrgyzstan, Latvia, Libya, Lithuania, Macedonia, Mexico, Mozambique, Netherlands, Norway, Pakistan, Poland, Portugal, Romania, Russia, Serbia, Singapore, Slovakia, Slovenia, South Africa, South Korea, Spain, Switzerland, Syria, Tajikistan, Tanzania, Turkey, Turkmenistan, Ukraine, Uruguay, the United Kingdom, the United States, Uzbekistan, Venezuela, and Vietnam.
Ambassador of  Baku 2017 Islamic Solidarity Games  Nuran Huseynov, footballer of national club "Qarabagh" and national team of Azerbaijan Gara Garayev, chief editor of magazine "M?d?niyy?t.AZ" Zohra Aliyeva,  President of FC "Shahdag" Arastun of Niftiyev, an honorary member of the Federation of Shaolin martial arts, world and European champion in martial arts Tofig Abishli, famous artist, the master of sports on free-style wrestling Jeyhun Abdullayev and others attended the event organized at the Tofig Bahramov Stadium in Baku.
Azerbaijani representatives of the project  Ravan Kazimov and Asef Aydamirov wore symbolic bracelets on star ambassadors.
 "If there is no peace, there will be no professional sports and a healthy lifestyle. And I, as the Ambassador of Baku 2017 Islamic Solidarity Games firmly support the peace and well-being", said Nuran Huseynov.
Vice-President of football club "Shahdag" Rustam Azimov said that the project teaches people to live in peace regardless of gender, age and physical capabilities.