Today.Az

»

Society » Closing ceremony of national stage of international debate championship held at ADA University


08 June 2023 [16:49]

- Today.Az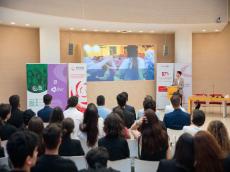 June 8, 2023, Yesterday, the closing ceremony of the national stage of the International Debate Championship of Eurasian Muslim Countries was held at ADA University, co-organized by the Eurasian Regional Center of the Youth Forum of Islamic Cooperation (ICYF-ERC) and the "Debate in Civil Society" Public Union.
According to Azernews, first, the final round was held between the teams representing the students of Azerbaijan Technical University and Azerbaijan University of Architecture and Construction on the topic "The presence of multicultural values in the society is the main factor preventing Islamophobia".
Afterwards, Vusal Gurbanov, Acting Director General of the ICYF-ERC, Ulviyya Akhundova, Chairperson of the "Debate in Civil Society" Public Union, Gadir Khalilov, Deputy Executive Director of the Youth Foundation of the Republic of Azerbaijan, Rustam Abdullayev, representative of the Ministry of Youth and Sports of Azerbaijan Republic, Azer Aliyev, Chairperson of the National Assembly of Youth Organizations of the Republic of Azerbaijan (NAYORA), Novruz Mammadov, Vice-Rector for Scientific Affairs and Innovations at the Azerbaijan University of Languages made congratulatory speeches and spoke about the importance of this event. The distinguished guests emphasized the importance of studying Heydar Aliyev's heritage among young people, as well as the special role of this program, which is currently held in different countries of Eurasia, in the development of youth, in increasing leadership skills, in their representative functions, in the establishment of communication among young people.
The main goal of the program implemented this year is to contribute to the improvement of speaking, communication and leadership skills of young people, as well as to achieve recognition of the personality of Heydar Aliyev in a wider audience.
At the end of the event, the teams and youth distinguished by special talent and skills in the championship were awarded special gifts.
It should be noted that 60 students from different universities of Azerbaijan participated in the debate championship held recently at the Azerbaijan State University of Economics.
The Eurasian Regional Center of ICYF (ICYF-ERC) plans to hold this project in a number of Eurasian countries in 2023.