Today.Az

»

World news » Dolmabahce Palace: Symbol of modernization in Türkiye's Ottoman Empire


10 June 2023 [08:00]

- Today.Az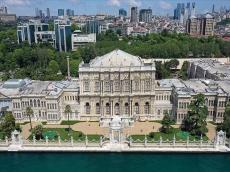 Dolmabahce Palace, which witnessed the cultural and political transformation of the Ottoman Empire in the 19th century Türkiye, still stands as one of the magnificent structures of the reform period, Azernews reports, citing Anadolu Agency.
The palace in the Besiktas district of Istanbul province, which is one of the Ottoman Empire's symbols of modernization, welcomed Sultan Abdulmejid on June 7, 1856.
Since 1856, the palace was home to Sultan Abdulmejid, Abdulaziz, Abdul Hamid, Murad V, Mehmed V Resad, Mehmed VI Vahideddin, Caliph Abdulmejid, and Mustafa Kemal Ataturk.
The palace, whose architecture draws the attention of both local and foreign tourists, is one of the city's most important historical structures, having witnessed the lives of the Ottoman sultans.
Highlighting the historical, political, and cultural importance of the palace, President of National Palaces Yasin Yildiz told Anadolu that "Dolmabahce Palace is the most symbolic and iconic of the Tanzimat Period palaces that existed in the last 70 years of the Ottoman period."
"The palace has an area of 360 decares. Many of its structures have survived to the present day," Yildiz said.
"The palace, which receives nearly 1.8 million visitors each year, is one of our country's most important museums," he added.