Today.Az

»

World news » Russia suppresses import of 344 tons of quarantine production from Kazakhstan


11 July 2018 [12:08]

- Today.Az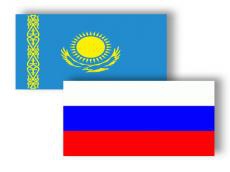 By  Trend
Russia surpassed import of more than 344 tons of quarantine products from Kazakhstan, the press service of Rospotrebnadzor said in a message.
"From July 3 to July 7, 2018, 17 attempts to smuggle more than 344 tons of quarantine products of high phytosanitary risk into the Russian Federation were stopped," the message said.
The products were imported to Russia from Kazakhstan and sent for sale to Moscow, Samara, Yekaterinburg and Chelyabinsk.
In particular, Russia canceled import of 238.3 tons of crops, including watermelons, beets, peaches, apricots, nectarines, plums, melons, potatoes.
The products did not have phytosanitary certificates or the information contained in phytosanitary certificates did not correspond to information in transportation documents.
"Products imported with violation of current legislation should be returned or destroyed. The owners of the products decided to return vehicles with products under the control of the Federal Security Service of the Russian Federation," the message said.