Today.Az

»

World news » UNSC slaps new sanctions on North Korea


12 September 2017 [15:36]

- Today.Az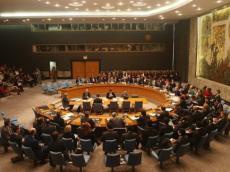 By Kamila Aliyeva
The international community continues its efforts to stop Pyongyang from developing its missile program and nuclear tests while tensions between the US and North Korea have reached the peak.
The United Nations Security Council has unanimously imposed a fresh set of sanctions against North Korea on September 11 over the country's sixth and most powerful nuclear test which was conducted on September 3.
It was the ninth sanctions resolution unanimously adopted by the 15-member council since 2006 over North Korea's ballistic missile and nuclear programs.
These new sanctions include limits on import of crude oil and oil products, a ban on textile exports and new visas for North Korean oversees workers.
Textiles were North Korea's second-biggest export after coal and other minerals in 2016, totaling $752 million. China was the main buyer of the textiles receiving about 80 percent of the total North Korea's exports.
China also supplied most of its crude oil to North Korea. However, the new resolution has set a cap on crude oil exports to North Korea at current levels.
The United States had originally proposed harsher sanctions including a total ban on oil imports but later watered down an initial tougher draft resolution to win the support of China and Russia.
North Korea has not yet reacted to the new sanctions. Nevertheless, ahead of the UN Security Council meeting, the country said that if the US did eventually push through harsher sanctions, North Korea would "absolutely make sure that the US pays due price."
The previous sanctions have also been accompanied by mutual threats between US President Donald Trump and Kim's regime.
Despite international efforts to stop North Korea's missile program, the country continues testing its ballistic missiles.
Earlier, UN banned North Korean exports of coal, ore and other raw materials and limited investments in the country. This cost Pyongyang an estimated $1 billion that is about a third of its export economy.
However, the recent test demonstrated that sanctions do not prove to be effective in this regard.