Today.Az

»

World news » Iranian FM accuses U.S. of not fulfilling nuclear deal


17 July 2017 [15:00]

- Today.Az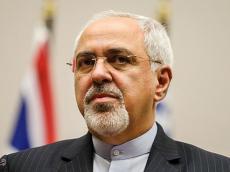 By Azernews
By Kamila Aliyeva
Tehran Iran has blamed the United States of not fulfilling its obligations under the nuclear deal, dubbed as an historical document undersigned in Vienna in 2015 between Iran and five permanent members of the United Nations Security Council and Germany. 
The United States, unlike Iran, does not fulfill its obligations under the nuclear deal, stated Iranian Foreign Minister Javad Zarif, who is currently in New York to attend the UN high-level political forum on sustainable development, said in an interview with CNN on  July 16.
Zarif said as per the agreement, known as the Joint Comprehensive Plan of Action (JCPOA), the IAEA is the "only accepted body to monitor the implementation of the nuclear side of the deal," adding that the nuclear agency had repeatedly confirmed Iran's commitment to the deal.
"The IAEA has verified, I believe, seven times now since the Implementation Day that Iran has implemented the deal faithfully, fully and completely. Unfortunately, we cannot say the same about the United States," IRNA quoted Zarif as saying.
He explained his position by saying that "the White House a few days ago said that U.S. President Donald Trump uses his visit to Hamburg for the G20 summit in order to convince the leaders of other countries not to deal with Iran."
This is not a violation of the spirit, but of the letter of the agreement, according to Zarif.
"I believe the United States has to comply with its part of the obligations under the deal," he said adding that the agreement "does not prohibit Iran from developing a peaceful nuclear program."
The Iran nuclear deal was negotiated in July 2015 between Iran, the five permanent members of the United Nations Security Council and Germany. By ratifying the plan, Iran agreed to scale down its nuclear activities in exchange for sanctions relief.
The agreement provides that in return for verifiable abiding by its commitments, Iran receives relief from U.S., European Union, and UN Security Council nuclear-related economic sanctions.
Recently, President Donald Trump has ordered a full review of the 2015 agreement, which he has repeatedly criticized as a failure of his predecessor. 
At the same time, the U.S. retains sanctions against Iran on the missile program, human rights and on suspicion that Tehran sponsors terrorism.