Today.Az

»

World news » Erdogan's chief adviser talks Iraqi KRG's referendum


14 June 2017 [13:05]

- Today.Az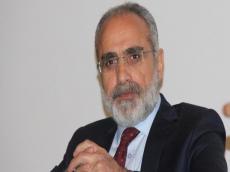 By  Trend
The independence referendum of Iraq's Kurdish Autonomous Region is unacceptable for Turkey and Ankara will not recognize the results of this referendum, Yalcin Topcu, chief adviser to the Turkish president, said June 14.
He added that Iraq's Kurdish Autonomous Region is responsible for its actions.
"Turkey stands for the integrity of Iraq, rather than for holding a referendum on the status of the Kurdish Autonomous Region," Turkish President Recep Tayyip Erdogan said at a meeting with the Justice and Development Party members in Ankara earlier.
Erdogan said that those in Iraq's Kurdish Autonomous Region should understand that they are not alone in the region and there are also Arabs and Turkomans living there.
"Iraq's territorial integrity is a priority for Turkey," Erdogan said.
Last week, Masoud Barzani, head of the Kurdistan Regional Government (KRG) in northern Iraq, said the KRG is ready to hold an independence referendum.
Barzani noted that the referendum is scheduled for September 25.