Today.Az

»

Politics » Senate approves Bush's pick for U.S. Armenia envoy


08 September 2006 [10:18]

- Today.Az
The U.S. Senate's Foreign Relations Committee, on Thursday, in a 13-5 vote approved President George W. Bush's choice of the new U.S. ambassador to Armenia, despite strong objections voiced by several members of the panel.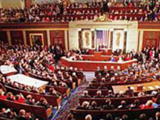 The nomination, if endorsed by the full Senate, will entitle U.S. Ambassador to Tajikistan Richard Hoagland to take over from fellow diplomat John Evans, who had been withdrawn by the administration after he described Turkey's 1915-1923 assault on Armenia as 'genocide'.
Some of the committee members said that the nomination of Hoagland should be rejected to protest the administration decision to recall John Evans in May after he asserted the killing of 1.5 million Armenians in Ottoman Turkey as 'genocide'.
The Bush administration has avoided using the term for the massacre in order not to offend Turkey, which Washington holds up as a model of democracy among Islamic countries.
Ohio Republican Sen. George Voinovich said he felt the administration was justified in recalling Evans.
"By golly, if they recalled a person because of this, it had to be something really, really important in terms of this country's relationship with Turkey," Voinovich said. AHN
/www.allheadlinenews.com/