Today.Az

»

Politics » Azerbaijan working on energy efficiency domestically - president


03 February 2023 [17:09]

- Today.Az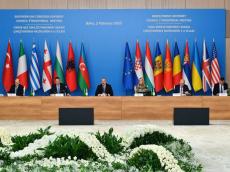 Azerbaijani President Ilham Aliyev has said that the country is working on energy efficiency domestically, Azernews reports.
He made the remarks at the 9th Southern Gas Corridor Advisory Council Ministerial Meeting and the 1st Green Energy Advisory Council Ministerial Meeting in Baku.
"As soon as the MoU with the European Commission on increasing of gas supply to Europe was signed, we started in Azerbaijan to work actively to look for additional opportunities to supply more gas. Now, apart from expected production from new fields, which we expect, for instance, this year, and an increase of production from the existing Shah Deniz field, which definitely is the case, we also work on energy efficiency domestically," he added.
The president emphasized that the country is working on a program for the reduction of losses.
"We are working on the program of a combination of our domestic needs with respect to electric energy and natural gas to save more gas, which we are using now to generate electricity in Azerbaijan for export," Aliyev stressed.
In 2023, Azerbaijan plans to increase gas supplies to Europe to 11bn cu.m. As of 2022, Azerbaijan has exported 9.3 billion cubic meters of gas to Europe in the first 10 months and is expected to supply 11.5bn cu. m. of gas to Europe by the end of the year.