Today.Az

»

Politics » Azerbaijan, EU committed to continuing discussions on new partnership agreement


14 May 2018 [17:54]

- Today.Az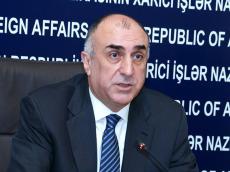 By  Trend
Federica Mogherini, High Representative for Foreign and Security Policy/Vice President of the Commission, met today with Elmar Mammadyarov, Foreign Minister of the Republic of Azerbaijan, said a message from the European External Action Service May 13.
Reportedly, they discussed EU-Azerbaijan relations, including the ongoing negotiations on a new bilateral agreement and cooperation in the context of the Eastern Partnership.
"Both sides underlined their commitment to continuing these discussions and to further developing EU-Azerbaijan cooperation and dialogue, including on connectivity, economic diversification, energy and trade as well democracy and fundamental rights," said the message.

The High Representative and the Minister also spoke about developments in the wider region, in particular the need to preserve the Iran nuclear deal (Joint Comprehensive Plan of Action, JCPOA) following the announcement by the US President, said the message.
In November 2016, the EU Council issued a mandate to the European Commission and the High Representative for Foreign Affairs and Security Policy to negotiate on behalf of the EU and its Member States a comprehensive agreement with Azerbaijan.
The new agreement should replace the partnership and cooperation agreement of 1996, which would make it possible to take greater account of the common goals and challenges facing the EU and Azerbaijan today.
The agreement will comply with the principles approved in 2015 in the document of the European Neighborhood Policy and will offer an updated basis for political dialogue and mutually beneficial cooperation between the EU and Azerbaijan.
At present, bilateral relations between the EU and Azerbaijan are regulated on the basis of the partnership and cooperation agreement, which was signed in 1996 and entered into force in 1999.
The new agreement provides for the approximation of Azerbaijan's legislation and procedures to the most important international and trade norms and standards of the EU, which should lead to improved access of Azerbaijani products to the EU markets.