Today.Az

»

Weird / Interesting » Borneo's tribe of eco-warriors


29 June 2015 [12:13]

- Today.Az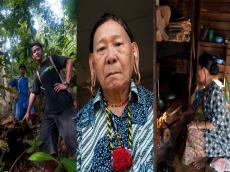 The rainforest was taking its toll. With humidity hovering around 100%, I was trying to keep up with our fleet-footed guide as I played a jungle version of whack-a-mole, flicking lecherous leeches off my rubber shoes with a salt-tipped stick. A stream of sweat poured off my chin to the damp forest floor below.
Our guide Sia Ngedao and I waited for my two trekking companions who, unaccustomed to the humidity, were bringing up the rear. Pele, a heavily bearded Swedish man who looked like a giant, had been intermittently freaking out over anything to do with sweat and bugs, while his girlfriend, Lisa, calmed him down with her serene demeanour.
We hadn't even reached our lunch spot and I could tell that Ngedao had given up on us attaining our goal for the day.
"The man cannot walk," he said sombrely as we waited for Pele to finish his third litre of water that morning. "We will not make it to the village today. We will sleep in the forest."
We were on a five-day trek with community tourism programmeBorneo Penan Adventure in Borneo's Upper Baram region, in Sarawak state. It's one of the few areas of primary rainforest remaining on an island that was once fully carpeted. It's also home to one of Borneo's many tribes, the Penan.
Historically, the Penan people were Borneo's nomadic hunter-gatherers, moving into areas with plentiful food sources such as sago palm and wild boar. Today only a handful of the 10,000 to 12,000 remaining Penan are genuinely nomadic, with the majority living in villages. Logging companies, palm oil plantations, hydroelectric dam projects and government corruption have all played a role in decimating the Penan's forest home, with the deforestation of Sarawak's primary growth estimated to be close to 90%. With the loss of their land, the Penan fear they will lose their independence. Borneo Penan Adventure offers several itineraries aimed at combating this destruction through sharing the tribe's way of life.
Our group was travelling through a handful of the 17 villages in Upper Baram's Penan Peace Park, a 163,000-hectare area established in 2009 to protect the local rainforest from large-scale logging. Many younger generations, including some of Ngedao's own children, have had to leave the area to find work in nearby cities or at logging camps, but the Peace Park and the Borneo Penan Adventure excursions, are giving them new options to stay. Now they can get involved in guiding, selling handicrafts, boat driving and working as porters.
But government recognition of the park, which would ensure its protection, has been an elusive goal. Ngedao, one of the key players in the fight to save the Upper Baram's rainforest, travelled to Sarawak's capital, Kuching, in 2012 to plead the Penan's cause.
"I asked the government, don't cut our trees, not just for the Penan, but for Malaysia, for people around the world," he said. "When the forest is protected, that gives life for everyone around the world. Oxygen for all of us."
But despite Ngedao's plea, Penan Peace Park has not been granted official government protection.
"I think they don't care about what I say," Ngedao said. "We need to protect the forest. This area has belonged to the Penan for hundreds of years."
Still experts in the rainforest terrain, Ngedao and his crew of guides and porters spent our five-day trek zipping through the jungle while we fumbled over root mazes and clawed our way up muddy slopes. There were no groomed trails or signposts. Penan have their own method of leaving clues for other villagers: the placing of a rock or a machete cut on a branch tells an entire story. 
As Ngedao and I waited for Pele, I peeled my eyes off my leech-covered shoes and took in my surrounds. Streaks of sun permeated the cracks in the dense canopy. I felt as if I had been swallowed whole.
"How long will take us to get to the village?" I asked.
"Penan can do it four hours. For us, maybe six," he concluded.
The previous day, Ngedao had collected us from the landing strip in the Upper Baram village of Long Lellang. The flight had passed over thick tracts of forest interspersed with evenly cut stretches of palm oil plantations and logging roads, a reminder of the ever-encroaching threats to the Penan's native home.
He had announced himself as our guide, flashing an empty space vacated long ago by his upper front teeth. Wearing a red jersey, blue shorts, knee-high socks and a muddied pair of rainforest-ready rubber shoes, Ngedao quickly sized up our bulging backpacks and the 20kg of food and water we had shipped. We would need at least four porters to make the journey.
The first day was a teasingly easy two hour-trek from Long Lellang to the village of Long Kepang, with mostly flat terrain and a few simple river crossings. During lunch, our porters and Ngedao taught us some basic Penan phrases.
I learned that jian kenin roughly translates to thank you, but literally means feel good. The Penan have no word for thank you; sharing is endemic. In fact, the greatest violation in Penan society is see hun, a failure to share. They also practicemolong, which means never to take more than necessary.
At Long Kepang, Ngedao showed us the sago tree, its palms shading a woman who was mashing the starchy innards of a tree that had been cut down. She used her bare feet like a winery grape stomper, part of the process of turning this fibrous substance into something edible. Though the Penan now supplement their diet with rice and other farming crops, sago is a vital part of their life.
Ngedao also taught us about the Penan's traditional hunting weapons: blowpipes made of ironwood and darts laced with the poisonous latex of the tajem tree. Measuring up to 7ft in length, the silent blowpipe is more accurate than a shotgun, killing almost instantly. Penan use it to hunt wild pig, birds, squirrels, monkeys, lizards and barking deer, among other critters.  
Today, the shotgun is gaining traction, as evidenced that evening in Long Kepang when Ngedao's friend carried his catch of bearded pig into our host family's hut for skinning and chopping. Three men skilfully wielded their machetes to the carcass: in the spirit of sharing, the meat was also distributed to other families.
It was on the second day of trekking that Ngedao doubted our chances for completing the gruelling 14km section from Long Kepang to Long Kerong. We took up a slow but steady pace, as I focussed on the sounds of the forest: the "kok" of the rhinoceros hornbills and the chiselling woodpeckers. The true songbirds were the cicadas whose buzzing echoed off the thick brush.
Trekking into the night, we were confronted with jutting roots, creaky bamboo bridges and other obstacles invisible in the black sky. To my surprise, I managed to keep pace with Ngedao's quick strides, relying on my intuition and feeding on the rhythm of the forest. When we finally reached Long Kerong, we teetered somewhere between delirium and adrenaline-induced euphoria. We'd conquered the clutches of the jungle for the night.
The matron of our host family greeted us with glasses of tea and a bucket for washing on the porch. She followed up with dinner: bowls of white rice, jungle ferns, tapioca greens, pineapple and small river fish. We set up our sleeping bags and mosquito nets on the same rattan mats that dinner had been served.
The following day, we ascended a ridge from where Ngedao scanned the horizon. We saw nothing but a thick haze in the distance.
"That is coming from Marudi," he said. "They are burning the forest for palm oil."
That night, we slept in the jungle. Our cocoon-like hammocks were designed to prevent leech attacks; the patter of light rain against the canvas lulled me to sleep. In the morning, we trekked to the "Big Trees", a stand of towering dipterocarp species, some reaching 40m to 70m high. Sun backlit their meandering vines and branches, imbuing these hardy survivors with god-like powers.