Today.Az

»

Arts & Entertainment » Thousands of music lovers flock to Caspian sea shore


27 July 2018 [14:02]

- Today.Az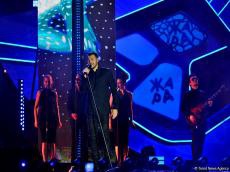 By Azernews
By Laman Ismayilova
As temperatures rise across, thousands of music lovers flock to the Caspian sea shore and enjoy the songs of local and national musicians.
Year after year, festival-goers fill Sea Breeze Hotel  to watch some of the world's biggest stars perform. Zhara International Music Festival is finally here.
The long-anticipated summer event solemnly opened at  Sea Breeze Hotel on July 26.
Zhara is a joint project of Azerbaijani singer Emin Agalarov, honored artist of the Russian Federation Grigory Leps and founder of the Russian radio award "Golden gramophone", Sergey Kozhevnikov.
A press- conference was organized as part of the festival.
"Zhara-2018 will feature 75 performers. This year's preparations took nearly one year. After completion of Zhara-2017, we had a meeting in early August last year and started planning out our next event," organizer of Zhara International Music Festival, People's Artist of Azerbaijan, singer and composer Emin Agalarov told a press conference.
"More than 1,200 musicians from a variety of countries will perform at the four-day festival. The shooting of "Odnazhd? na Jare" (Once upon a time in Zhara) has already been launched. One of the 58 performers featured in the film is Steven Seagal. He is taking part in this festival for the first time. We also consider making individual albums for Zhara performers," he added.
Russian People's Artist Grigory Leps, founder of Russkoye Radio and Zolotoy Grammofon award Sergei Kozhevnikov, world-renowned singers Philipp Kirkorov, Lyubov Uspenskaya and MOT responded to questions from journalists at the press conference.
"Zhara International Music Festival is one of the major events in the music world. It is a four-day long music holiday," said Philipp Kirkorov who also thanked President Ilham Aliyev and First Lady of Azerbaijan Mehriban Aliyeva for their hospitality. He added that his concert held two years ago at Crystal Hall in Baku was the most wonderful one in his career.
Grigory Leps stressed the importance of young singers taking part in the festival.
Russian rap artist MOT said this festival is a wonderful outset for young artists.
Saying this will be her first performance in the festival, Lyubov Uspenskaya told about her creative evening to be held as part of the festival.
"I carefully selected artists who would perform songs from my repertoire. And every artist has coped with his work by one hundred percent. I'm glad that everyone took seriously the work on the songs from my repertoire," she added.
She emphasized that a musical gift await guests of summer music festival.
"I'm preparing a surprise  at my creative evening I will perform a song in the Azerbaijani language" A? çiç?k together with People's Artist of Azerbaijan, famous composer and singer Polad Bulbuloglu," she added.
Further, music lovers soaked up the festival atmosphere as world stars appeared on the stage.
This year the festival is held at an even higher level. Large pavilions, press center, cafes and bars, free food with national dishes and a variety of drinks delighted all music lovers.
This fantastic summer festival brought together pop stars from Azerbaijan, Russia, Ukraine, Italy, the USA, Kazakhstan, Moldova and other countries.
About 75 singers performed on the first day of the festival, which became a kind of world record. But there are still three days ahead.
The stage featured a lineup full of some of the biggest names, including EMIN, Alekseev, Artik & Asti, Brandon Stone, Burito, Doni, Denis Klaver, Feduk, Loboda, L'One, Monatik, Nastya Kamenskykh, Natan, Nyusha, Alexander Panayotov, Philip Kirkorov, Elina Chaga, Julia Kovalchuk, ZOMB, Alessandro Safina, Vlad Sokolovsky, Artem Pivovarov, DJ Shock, ?n-Grid, Aysel Mamedova, Jamila Hashimova, Tomas Nevergreen, A Studio, DoReDoS, Degrees, Time and Glass, Pizza and others.
The anniversary evenings of Leonid Agutin, Vladimir Presnyakov and Valeria will be held on July 27. Famous singers Angelica Varum, Natalia Podolskaya, Christina Orbakaite, Stas Piekha, Irina Dubtsova, Slava, Natalie and others are also expected to perform.
A concert of Russian rock band "Leningrad" is scheduled for July 28. Lolita, Irina Dubtsova, GeeGun, Monatik, Loboda, Alexander Panayotov, Marie Kraimberi, Timur Rodriguez, Banderos, A-Studio and others will delight music lovers.
Creative evenings of Valery Meladze and Lubov Uspenskaya will be held the final day of the festival, on July 29.
Together with them Diana Arbenina, Grigory Leps, Albina Dzhanabaeva, Emin Agalarov, Danil Buranov, Loboda, Ani Lorak and others will appear on the stage.