Today.Az

»

Arts & Entertainment » Young artists mesmerize Parisians


05 July 2018 [14:12]

- Today.Az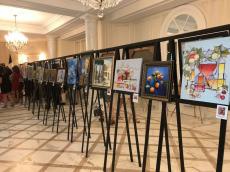 By Azernews
By Laman Ismayilova
Series of events dedicated to the 100th anniversary of the establishment of the Azerbaijan Democratic Republic continue in France.
The Embassy of Azerbaijan in France and "Dirçalish" Youth Social-Psychological Rehabilitation Center hosted an exhibition titled "Young Azerbaijani Artists in Paris" at Azerbaijan Cultural Center.
More than 60 works by 22 young artists showcased their art works at the exhibition, Azertag reported.
Addressing the event, First Secretary of Political Affairs of the Azerbaijani Ambassador to France Vagif Agayev gave detailed information about the first secular Azerbaijan Democratic Republic in the Muslim East. He pointed out that it was inspired by progressive principles such as freedom, humanism, and equality at the beginning of the twentieth century, highlighting one of its key accomplishments - the right of women to vote.
Agayev presented certificates to the young artists of the Center for Empowerment and Social-Psychological Rehabilitation of Youth.
The exhibition was highly appreciated by viewers.
Notably, the works of young artists have been demonstrated in many European countries.
On May 28, 1918, Azerbaijan declared its independence establishing the Azerbaijan Democratic Republic, which became the first secular parliamentary democracy in the Muslim World and recognized by other democratic nations, including the United States of America.
During the short period of independence Azerbaijan granted all people the rights to vote regardless of race, gender, ethnicity, and religion, becoming the first Muslim nation to give women equal political rights with men, an accomplishment preceding the United States. Azerbaijan's independence was interrupted in 1920, when it was invaded by Bolshevists, and forcefully incorporated into the USSR in 1922 to restore its independence only in 1991.