Today.Az

»

Arts & Entertainment » Symposium Common Language of Turkic World Ornaments


19 May 2017 [14:43]

- Today.Az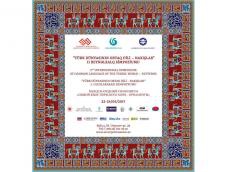 By Azernews
By Laman Ismayilova
Azerbaijan Carpet Museum will host the 2nd International Symposium titled "Common language of the Turkic world – ornaments" on May 22-24.
The theme chosen for the event is "Various roads of common source", Trend Life reported.
 The symposium will be held with the organization of the Culture and Tourism Ministry of Azerbaijan, the Baku Turkish Cultural Center of the Yunus Emre Institute and Azerbaijan Carpet Museum, with the support of the Turkish Embassy in Azerbaijan, the TurkPA (the Parliamentary Assembly of Turkic-speaking countries), the Turkish Cultural and Tourism Office of the Republic of Turkic-speaking countries, Z Company 2007, Azerbaijan-Turkish Association of Business People and the Azerbaijan University of Languages.
Leading researchers, collectors, carpet weavers and other specialists of this field from Azerbaijan, USA, Georgia, Iran, Italy, Kazakhstan, Kyrgyzstan, Uzbekistan, Poland, Russia, Serbia, Turkey, Turkmenistan, and Ukraine will take part in the symposium.
The main aim of the event is to enrich the common heritage of the Turkic people through the research works in the field of carpet patterns, and increase care, attention and knowledge of our people to their own national and cultural values.
The theme of the symposium is the art of the Turkic carpet patterns, which covers the main historical periods as BC, Islam and others, till present day.
The speeches of scientists working on the themes of the typological classification of the features of ornaments, their geographical distribution, and the protection of the material and spiritual heritage will be published in book form, and distributed to the libraries and among participants.
The exhibition of the National Gagauz Historical and Ethnographic Museum after D. Kara Choban will be held as part of the event. Carpets, embroidery, national costumes and other kinds of arts and crafts of Gagauz Turks will be displayed at the exhibition.
Media partners of the event are Trend.az, Day.az, Milli.az, Azernews.az