Today.Az

»

Arts & Entertainment » Sevda Alakbarzade promotes 'Teatra ADDIMla' project [PHOTO]


19 December 2016 [14:10]

- Today.Az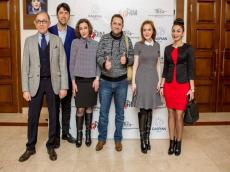 By Azernews
By Amina Nazarli
Azerbaijan's honored artist, prominent jazz and pop singer Sevda Alakbarzade met with young people as part of the project "Teatra ADDIMla" (Step to the Theatre).
Organized by ADDIM Youth Association, the meeting was held at the State Russian Drama Theater named after Samad Vurgun.

Chairman of ADDIM Huseyn Javadzade said that the project running in parallel with Kinoya ADDIMla (Step to the Cinema), is aimed at promoting the theatrical art.

The project involves famous figures of culture and art, TV presenters and singers. Media supporters are Trend.az, Day.az, Milli.az and Azernews.az.
Later, the participants watched the performance "Lodgers of hell" by Elchin Efendiyev.
The performance was staged by Azerbaijani director Kamran Shahmardanov, who has living and working in Finland for many years, and is the artistic director of Theatre of the White and the Black.

The performance is about the couple, who is preparing for the New Year in Baku. The head of the family makes a toast, the essence of which is as follows:
As soon as the clock strikes twelve, let a terrible 1937 remain forever in the past, the time that took the lives of many of our neighbors, and hundreds of thousands of innocent people. Honest and brave men!
The plot, passions, original director's ideas keep viewers in suspense until the end of the performance. Devil unmasks family couple with their unexpected revelations, forcing the audience to think - so who is worse - the inhabitant of hell, or these people who are mired in the most terrible sin?