Today.Az

»

Business » Collection of electric bills improved in Lenkeran


11 October 2006 [10:03]

- Today.Az
Lenkeran Electricity Supply Department collected AZN 117000 from the customers in September. This indicator was AZN 105000 in August.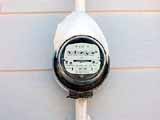 Lenkeran ESD chief Gilman Rzayev said that 14mn KW/h of electrical energy was consumed in September. 25000 of the 30475 customers were attracted to pay the bill. Over 7000 customers who rob electric power were issued a warning.
4600 electric meters have been installed in Lenkeran. APA