Today.Az

»

Business » Protocol on amendments to Kazakhstan-Azerbaijan treaty ratified


02 May 2006 [15:26]

- Today.Az
Deputies of the Senate of the Parliament of Kazakhstan have passed the Law On ratification of a Protocol on amendments to the Treaty between the Governments of Kazakhstan and Azerbaijan on free trade as of June 10, 1997.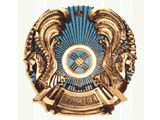 According to KazInfo, the Protocol envisages canceling modification of exceptions from the free market environment. The withdrawals were applied in regard of alcohol and non-alcoholic drinks and tobacco.
The withdrawals will be abolished up to the schedule approved since July 1, 2006.
The Protocol was signed last May 24 in Baku.