Today.Az

»

Business » Huseyn Arabul systematically informs PM of events in Barmek


30 March 2006 [08:49]

- Today.Az
The management of the Barmek Azerbaijan Electricity Network Limited Liability Company (LLC) systematically informs the Prime Minister about the events taking place in the Company.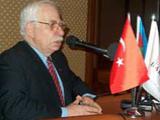 As to the President of the Company Huseyn Arabul: "I inform the government about all events. I do not know when the inspections will complete".

Mr.Arabul also said that the Embassy of Turkey to Azerbaijan is seriously concerned about the inspections and events in Barmek. "The Embassy cares for any Turkish citizen in Azerbaijan, including those of Barmek", - Mr.Arabul expressed his assurance that the government of Turkey would provide necessary assistance.

The President of the Company clarified rumours on implementation of the inspections in the Sumgait regional department of Barmek by saying: "At present, inspections are conducted only in our central office. We were requested for the inspections and we gave permission. That is all".
Investigation of activities of the Barmek's arrested employees has been completed. Mr.Arabul said that the investigation reveals their guiltlessness. The results of this investigation have already been delivered to the relevant organizations.

Mr.Arabul also commented the information spread in press as if he's impeded in his activity because of refusing to pay bribes: "You value this fact anyway you want. Why do I have to bribe anyone? I am not Azerbaijani, I am Turkish. No one asked me for anything. As regards the problem concerning taxes, let them say what they want. It is early yet to say what is wrong and what is right".
Mr.Arabul gave one more explanation. He declared that he appealed to all state and government authorities in connection with the recent events: "I asked response neither from MNS nor other authorities, I just informed them about the problem".
/APA/