Today.Az

»

Business » Azerbaijan prepares amendments to Customs Code


14 May 2018 [18:12]

- Today.Az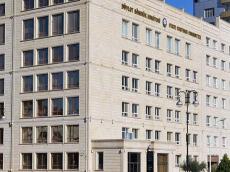 By  Trend
The State Customs Committee (SCC) of Azerbaijan is developing a package of amendments to the Customs Code of the country, Chief of the Main Department for Activity Assessment and Development Programs Igbal Babayev told reporters May 14.
He said the package of changes will be sent to the government for consideration in the near future. Babayev also noted a number of proposals of the SCC.
"Currently, the package is in the last stage of development and will soon be sent to the government for consideration. As for the changes, since recently our activities on import-export operations are regulated jointly with the Ministry of Taxes, part of the changes will touch upon this matter. In general, the changes will contribute to the simplification of customs procedures, ensuring high-speed passage of customs checkpoints," Babayev said.
The Chairman of the SCC Safar Mehdiyev noted earlier, the development of trade and business creates the need for reforming the infrastructure and the work of customs authorities.
"From this point of view, it is necessary to eliminate shortcomings in the infrastructure of the customs authorities, increase transparency in relations between the customs authorities and the business circles and carry out personnel reforms. In the future, both business representatives and customs officials should build their activities within the law, and all illegal actions will be strictly suppressed. Initial informational meetings have already been held for customs officials, instructions have been given to all senior personnel on this subject," Mehdiyev said.