Today.Az

»

Business » Demand for CBA's notes exceeds supply


07 December 2017 [11:45]

- Today.Az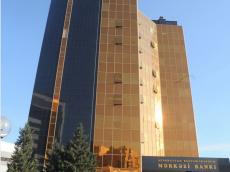 By  Trend
The Baku Stock Exchange (BSE) held an auction on placement of short-term notes of Azerbaijan's Central Bank (CBA) in the amount of 250 million manats with a maturity of 29 days, BSE said.
The demand during the auction exceeded supply by almost two times – banks submitted applications for 464.83 million manats. The entire amount put up for auction was sold.
The applications were submitted at the price of 99.19 manats (with a yield of 10.14 percent) and 99.2004 manats (10.01 percent).
The deadline for the payment on notes is Jan. 4, 2018.
Short-term notes are a tool of monetary policy to regulate money supply in circulation. Only banks can obtain notes.
(1.7 manats = 1$ on December 7)