Today.Az

»

Business » Azerbaijan ups upper limit of external debt


02 December 2017 [10:26]

- Today.Az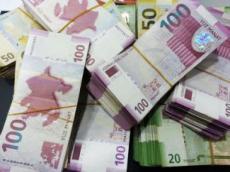 By  Trend
The upper limit of Azerbaijan's external debt was increased to 2.15 billion manats, Azerbaijani Finance Minister Samir Sharifov said at a plenary session of the Parliament on December 1.
He said that in 2017 the government determined the upper limit of the external debt at the level of 4.5 billion manats, but some of these funds will not be used until the end of the year.
"Negotiations with international financial organizations required more time than we expected earlier. Due to this, we forecast that by the end of the year we will use 1.15 billion manats less than planned, and we suggest moving the balance to the next year and increase the upper limit of the external debt to 2.15 billion manats, "Sharifov said.
Earlier, the upper limit of the external public debt for 2018 was determined at the level of one billion manats.
As of July 1, 2017, Azerbaijan's external public debt amounted to $ 7,173 billion (12,208 billion manats), which is 18.9 percent of the country's GDP.
The Finance Ministry reported that the statistics on borrowing included direct state obligations and contingent liabilities for loans attracted under the state guarantee.
External public debt consists mainly of credit programs and infrastructure projects of international financial institutions, as well as from securities placed on international financial markets.
In April 2017, the country's external debt amounted to seven billion dollars (18.1 percent of GDP).