Today.Az

»

Business » France ready to support agricultural development of Azerbaijan


19 May 2017 [12:48]

- Today.Az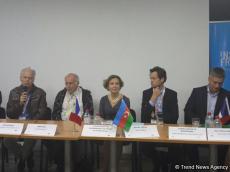 By Azernews
By Amina Nazarli
Azerbaijan aims to develop its agriculture potential and France is ready to provide support in this regard, said Aurelia Bouchez on May 18.
The French Ambassador to Baku made the remarks in Baku at a press conference attended by representatives of French companies specializing in horticulture, viticulture and winemaking.
"Despite the fact that currently, economic relations between the two countries are mainly concentrated in the energy sector, we see that Azerbaijan aims to diversify its economy and specifically, develop agriculture," Bouchez said.
About 18 percent of all agricultural products made in the EU account for France, she noted, adding that her country is ready to share its experience in agriculture with Azerbaijan.
The envoy said that representatives of seven French companies, specializing in horticulture, viticulture, winemaking and production of labels, came to Baku to participate in an agricultural exhibition.
"Tomorrow, members of our delegation will go to Azerbaijan's regions to get acquainted with plants," Bouchez said, adding that in future France is ready to develop cooperation with Azerbaijan not only in winemaking but also in other sectors of agriculture.
France is the most dominant agricultural center of Europe: its share of the value in EU agricultural production is 18 percent. The sector plays the role of a crucial driver of growth and employment, as it ensures jobs for over 1.4 million people and provides 3.5 percent of national GDP.
Currently Azerbaijan and France are cooperating in animal husbandry, artificial insemination, wine-growing and others. France shares its experience with Azerbaijan in agricultural sector, in particular for the modernization of animal health and epidemiological service.
Moreover, the EU works with Azerbaijan's Agriculture Ministry for the development of an electronic agriculture system and a land information system.
Azerbaijan seeks to achieve an economy driven by the non-oil sector, but not petrodollars. That means putting more effort to develop local production and more support to agriculture, one of Azerbaijan's best non-oil sector development options. Enjoying advantageous geographic location Azerbaijan has all possibilities to increase food security and production in the country.
The World Food Azerbaijan 2017 and CaspianAgro 2017 exhibitions are being held in Baku on May 17-19.
A total of 331 companies representing 28 countries were participating in the World Food Azerbaijan 2017 and the CaspianAgro 2017 exhibitions. Some 70 percent of these companies are foreign exhibitors, while 30 percent are local ones.