Today.Az

»

Analytics » Azerbaijan to attract new members to TASIM


17 December 2014 [11:21]

- Today.Az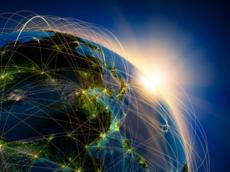 By Aynur Jafarova
Azerbaijan is keen to attract new members to the Trans-Eurasian Information Super Highway (TASIM) project, which is a major regional initiative. It is aimed at creating a transnational fiber-optic backbone targeting primarily countries of Eurasia from Western Europe to Eastern Asia.
Currently, TASIM with a vision to build a platform for improving connectivity in Eurasia involves countries such as Azerbaijan, Russia, Kazakhstan, Turkey, and China.
Azerbaijan, as the initiator of the project plans to involve member states of the Organization of the Black Sea Economic Cooperation (BSEC) in TASIM.
During Azerbaijan's chairmanship at the BSEC committee on science and technology in 2014-2016, TASIM will be introduced to the BSEC participants with the aim to disseminate information about the project and the benefits it can give to the participants.
"It is quite possible to increase the number of participants of the project. Many countries have expressed their readiness to take part in this project," Azerbaijan's Foreign Ministry said.
The TASIM project with an initial cost of $100 million envisions creating a major transit link from Frankfurt to Hong Kong. The line will connect major centers of data exchange in Europe and Asia together, stretching through China, Kazakhstan, Azerbaijan, Georgia, Turkey, and Germany. A reserve North transit line will pass through Russia, Ukraine and Poland.
A Memorandum of Understanding was signed on the establishment of the TASIM consortium during the 19th international BakuTel-2013 conference and exhibition in December.
In September 2013, the UN General Assembly passed a resolution supporting Azerbaijan's initiative on establishment of Eurasian Connectivity Alliance (EuraCA) and construction of TASIM.
TASIM will be implemented in two stages. The project is expected to come on stream at the cost of $100 million. The length of TASIM will be 11,000 kilometers and its initial network bandwidth will reach 2 Tbit/s.
The participants of TASIM have approved the World Bank's proposal on laying the third alternative route through the territory of Turkmenistan. This route will lead to China, as well as the East Asian countries (Indonesia, Vietnam, etc.) with a high requirement for internet capacity.
One of the main plans for the implementation of the TASIM project is construction of the Caspian segment of TASIM, which will connect the largest information exchange centers of Europe and Asia.
Kazakhstan and Azerbaijan have made arrangements in this regard and a contract will be signed in near future on the construction of the underwater segment.
Executive Director for Infrastructure Projects of Kazakhstan's KazTransCom Alexander Kislitsin believes the Caspian Sea's indefinite legal status is hampering the construction of the underwater segment of TASIM.
He earlier told Trend new agency that there are still problems on border crossing and no final decision has been made yet.
Experts believe that after resolving the issues hampering the implementation of the project, TASIM will enter an active phase of its implementation.