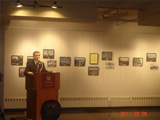 At Ottawa University of Canada opened the photo exhibition named "Aghdam - Caucasian Hiroshima", - the Embassy of Azerbaijan in Canada reported.
The photographs displayed at this exhibition reflected destruction of cultural heritage and historical monuments in the occupied territories of Azerbaijan by armenians , especially in Aghdam.
Note that the photo exhibition jointly organized by the Azerbaijani-Canadian Council and the Embassy of Azerbaijan in Canada.
Delievering speech at the ceremony, Azerbaijani Ambassador to Canada Farid Shafiev noted that while the Azerbaijani territory under Armenian occupation, the country-occupier can not develop.
Author photos displayed at the exhibition, an independent Swiss journalist Andre Widmer said that members of the media must always tell the truth. Widmer informed the audience about the Armenians wandalism in the occupied Azerbaijani territories.
/
APA
/