45th European Karate Championships in styles for WKF (World Karate Federation) is underway in the Athens, Greece.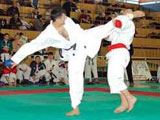 On the first day of competition, Azerbaijani team won one medal. Rafael Agayev (75 kg) became the winner of the championship defeating Greek Georgios Tzanos in the finals.
This is already seventh European title for Agayev. In addition, he has three times won the youth championship of the continent and senior world championships.
/Day.Az/