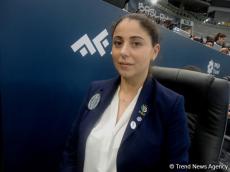 Trend:
Female athletes participating in the 25th Azerbaijan Championship in Rhythmic Gymnastics are showing a good preparation, the competition judge Elnara Huseynova told Trend.
"The level of gymnasts from Azerbaijani districts has risen much," she added. "In the National Gymnastics Arena, female athletes learn, acquire new knowledge and experience, and develop."
She noted that the competitions are very important for the future achievements of gymnasts.
The 25th Azerbaijan Championship in Rhythmic Gymnastics will run until Dec. 9.
Within the first three days, individual gymnasts are competing in the age categories of "youngsters", "pre-juniors", "juniors", while teams in group exercises are divided into the age groups of "youngsters" and "pre-juniors".
Among the competitors, there are representatives of the Ojag Sports club, Baku Gymnastics School, Republican Complex Sports School, the AyUlduz club, Zirva International Sports Club, Sarhadchi Sports Olympic Center, Aquatic Palace, Zabrat Sports Club, as well as Sumgait, Gusar, Ganja, Mingachevir, Ismayilli, Kurdamir, Shirvan and Goychay.
On the last day of the events, the 5th Interregional Cup will commence. Representatives of Azerbaijani districts will perform in both individual and group exercises at the Interregional Cup.