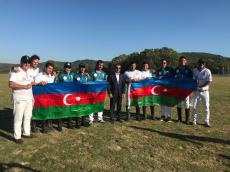 By Azernews
By Abdul Kerimkhanov
Azerbaijani national team went to the final of the European Polo Championships on September 30 in the city of Siena, Italy. Despite the brilliant game and effort, the national team lost to the Italian team and won a silver medal at the Championships.
The last and decisive game of the European championship is remembered by tense and dramatic moments. Azerbaijan team showed a good game, but won the silver medal in defeating Italy 8: 4. Hostess of the tournament won the gold medal.
The triumph of victory of the Azerbaijani team at the tournament as a debutant of the European Championship was the biggest surprise of the continental championship.
Azerbaijan has beaten the Dutch team 7: 3, the French national team - 8: 4 and the Slovak national team - 11: 7 in the previous round of the European Championships.
The European Championship in Siena, co-organized by the International Polo Federation and the Federation of Equestrian Sport was held on September 20-30. The teams from Austria, Germany, France, the Netherlands, Slovakia, Spain, Switzerland, Ireland, Italy and Azerbaijan participated in the tournament.
In Azerbaijan this sport is receiving close attention. Azerbaijanis have a heritage of playing equestrian sports like Chovgan, the original form of polo dating back thousands of years. Chovgan is still played in Azerbaijan to this day.
This ancient game was included in UNESCO's List of Intangible Cultural Heritage in 2013.
Since 2006, Azerbaijan holds a national tournament known as the President's Cup at the Republican Equestrian Tourism Center at Dashyuz near Shaki.