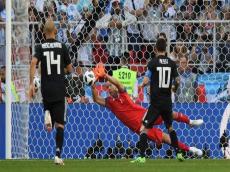 By Azernews
By Rashid Shirinov
Qarabag Football Club, the six-time champion of Azerbaijan, has strengthened its squad with a new player – the goalkeeper of the Iceland national team Hannes Halldorsson.
Before the transfer, the 34-year-old footballer was playing in Danish Randers FC for two years. As part of the Iceland national team, Halldorsson took part in the 2018 World Cup, playing in three matches of the group stage.
It is noteworthy that in the game against Argentina, the Icelandic goalkeeper saved a penalty from the Argentine top player Lionel Messi. However, Iceland could not qualify from the group, taking the 4th place.
In an interview with Icelandic media, Halldorsson said that before making the decision to move to Qarabag FC, he received information about the club from its foreign players.
"I talked to the Spanish and Polish players of Qarabag and received the necessary information. Qarabag is a top club, it has all the necessary conditions," the goalkeeper noted.
Halldorsson added that his new team has won the last five seasons in Azerbaijan Premier League and is a regular participant in UEFA competitions.
As for the performance of Qarabag FC in the Champions League, the goalkeeper said: "Last year Qarabag advanced to the group stage of the Champions League by beating the Danish FC Copenhagen. And now they again want to play in the Champions League. I think that this is also the best chance for me to play in the Champions League, and I decided to follow this dream."
The Icelander will have to miss the first match of Qarabag within the competition because of the injury he received at the 2018 World Cup.
"I got injured and I'm recovering now. I will have to miss the first match against Slovenian Olimpija FC, but I hope to play in the second game in two weeks," Halldorsson said.
Qarabag FC was formed in 1951 in the Azerbaijani city of Agdam. After the occupation of the city by the Armenian militaries in 1993, the club was compelled to leave its hometown and settled in Baku.
So far, Qarabag has participated in 14 editions of the club competitions governed by UEFA. These include four seasons in the Champions League, nine seasons in the UEFA Cup and Europa League, two seasons in the Cup Winners' Cup and one season in the Intertoto Cup.