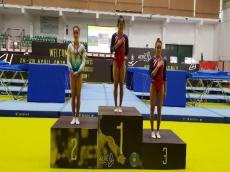 Trend:
The 2nd AERE Trampoline Cup has wrapped up in Italy's Brescia city, the Azerbaijan Gymnastics Federation said April 29.
Azerbaijani gymnasts Svetlana Makshtareva and Veronika Zemlianaia showed the best results in the synchronous program of the competitions. The gymnasts ranked seventh scoring 46,090 points.
Along with the Trampoline Cup, an international tournament among juniors took place in this city. Azerbaijani gymnast was among winners in the competitions in which athletes from 15 countries participated. Azerbaijani gymnast Seljan Magsudova won the silver medal, successfully performing in the individual program.