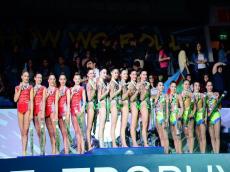 Trend:
A ceremony of awarding the winners in all-around group competitions in FIG Rhythmic Gymnastics World Cup was held April 28 at the National Gymnastics Arena in Baku.
Italian gymnasts showed the best results in two exercises and scored 40.650. Bulgaria's representatives came in second with 38.400 points, while Japanese gymnasts grabbed the bronze medal by scoring 35.550 points.
The medals were presented to the winners by Azerbaijan's Deputy Minister of Youth and Sports Ismayil Ismayilov, FIG Technical Delegate Caroline Hunt, Vice President of the Ukrainian Rhythmic Gymnastics Federation Irina Deriugina and Secretary General of Azerbaijan Gymnastics Federation Nurlana Mammadzade.
At the same time, FIG Cup was presented for three best results in four stages of the 2018 World Cup. The Cup was presented to the Italian team.
Moreover, Italian gymnasts won the AGF Trophy for the highest score.
The second day of the Rhythmic Gymnastics World Cup was held April 28 in the National Gymnastics Arena in Baku.
On the second day of the competitions, Azerbaijan was represented by Veronika Hudis and Zohra Aghamirova in individual performances, as well as a group team consisting of Ayshan Bayramova, Diana Doman, Zeynab Hummatova, Aliya Pashaeva and Siyana Vasileva.
The World Cup in Rhythmic Gymnastics takes place in Baku for the sixth time. The tournament, which will last until April 29, features 127 gymnasts from 26 countries. Of these, 44 athletes perform in individual programs, while 83 gymnasts compete in teams in group exercises.