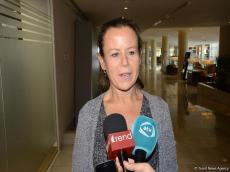 By  Trend
The European Broadcasting Union (EBU) looks forward to continue excellent cooperation with the European Union of Gymnastics (UEG), said Beatriz Pastor, the Senior Sports Rights Manager at the European Broadcasting Union.
She made the remarks when commenting on the election of AGF Secretary General Farid Gayibov as the president of the UEG.
She added that she has already exchanged opinion with the newly-elected president of the UEG, and that the EBU is very satisfied by his election.
Pastor also stressed that it is very important to work together with the UEG in order to always develop and improve the presentation of the sports for television and media in general.
"We have an excellent cooperation, which we expect to continue and for sure, the development is essential for this sport in order to bring the best and further engage audiences around the world. This is only possible with good exchange and cooperation at the level of executive committees and technical committees, where the media elements and commercial aspects of the sport are brought forward", said Beatriz Pastor.
Azerbaijan Gymnastics Federation Secretary General Farid Gayibov was elected as the President of the European Union of Gymnastics.
The 50 member Federations of the UEG elected the new UEG authorities at the 27th Congress in Split, Croatia on December 2.
Gayibov gained 28 votes, leaving behind Edvard Kolar, President of the Management Board of the Slovenian Sports Lottery, who received 20 votes. Gayibov will replace Georges Guelzec (FRA), who led the UEG since 2009.