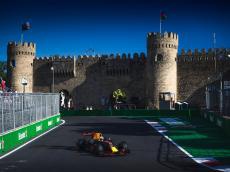 By Azernews
By Aygul Salmanova
Baku City Circuit, the organizer company of the Formula 1 competitions in Azerbaijan, continues ticket sales for the Formula 1 Azerbaijan Grand Prix, which started from November 6.
The sale of tickets for the Grand Prix, which will be held on April 27-29, 2018, continues successfully, with much interest for the forthcoming competitions, Nigar Arpadarai, Head of the Marketing and Communications at Baku City Circuit told Trend on November 20.
This year a discount campaign was held on tickets, Arpadarai said.
"And for the upcoming races there is a campaign of discounts on tickets, and they show great interest. In general, tickets are still purchased from foreign countries," she said.
She added that increased interest in the competition was predictable, because this year's Grand Prix went very well, and many waited for the Baku race.
Arpadarai also noted that during the Grand Prix, which will be organized in Abu Dhabi, a meeting with foreign journalists will be held. "That is, the propaganda of the Grand Prix of Azerbaijan continues, and we believe that the interest after that will increase even more," she said.
Roughly 71,541 Formula 1 fans - old and new - attended the 2017 Formula 1 Azerbaijan Grand Prix, the second successive street race hosted in the Azerbaijani capital.
This figure represents a 30 percent increase in ticket sales from the inaugural 2016 event in F1's newest market, announced Baku City Circuit. 
Furthermore, international visitor numbers for the race week were up 100 percent from last year with guests arriving from over 65 different countries to witness what turned out to be one of the most dramatic and memorable races in recent memory. Indeed, international fans accounted for a third of all overall ticket sales.
The fabulous atmosphere in Baku, Azerbaijan's capital city for the first time provided the perfect backdrop for the 8th round of the 2016 FIA Formula One World Championship, delighting spectators with a truly unique live sporting experience.
The city proved to have a lot to offer visitors, especially the picturesque old town and its medieval walls, which provided iconic views for TV cameras and photographers. The sheer scale of the circuit itself was impressive – this was 6km through the heart of a major city.