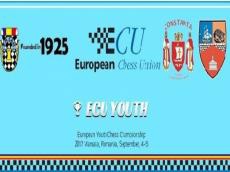 The 7th round of the European Youth Chess Championship 2017 has kicked off in the city of Mamaya, Romania, Azertac reported.
Aydin Suleymanli is leading the winners table with 6 points out of 7 rounds by defeating his Russian rival Vladimir Murzin under the age of 12 year. Azeri female chess player Ayan Allahverdiyeva also ranked first by defeating the Georgian representative Diana Loma.
14 years old female chess player, Govhar Beydullayeva secured her leadership after beating her Ukrainian rival Mariya Berdnik.