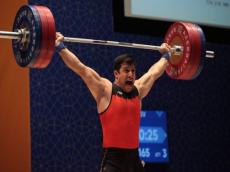 By Trend 
Azerbaijan men's weightlifter Rovshan Fatullayev (94kg) has won a bronze medal at the 4th Islamic Solidarity Games in Baku.
In a snatch, Fatullayev lifted 165 kg, followed by a 211-kg clean and jerk lift. Fatullayev secured himself the third place by lifting 376 kg in total.
Another Azerbaijan men's weightlifter Nailkhan Nabiyev lifted 162 kg in a snatch and 198 kg in a clean and jerk. Nabiyev took the seventh place by lifting 360 kg in total.
Iran men's weightlifter Seyedayoob Mousavijarahi, who lifted 381 kg in total, won a gold medal at the competitions, while Uzbekistan's representative Farkhodbek Sobirov won a silver medal by having lifted a total of 380 kg.
The Baku 2017 Islamic Solidarity Games started May 8 and will last until May 22 in Azerbaijan's capital.