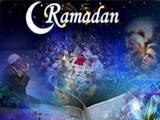 Qadi Council of the Caucasian Muslims Board issued a fatwa on the start of the Month of Ramadan.
An event was held on this occasion at the Caucasian Muslims Board. According to the fatwa, the first day of the Month of Ramadan falls on August 1 of the Christian calendar. July 31 is the night of intention. The Eid ul-Fitr falls on the 29th or 30th of the Month of Ramadan by the hijri calendar – August 30 or 31 by Christian calendar.
The schedule of Ramadan was also publicized at the event.
/
APA
/